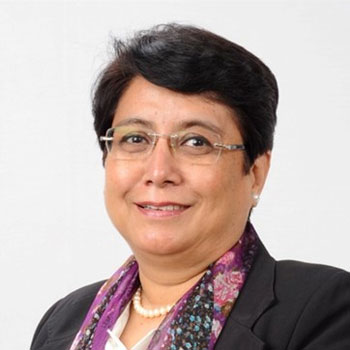 Bina Rana
Consulting Expert
+977 9851075695
"Passionate about making a meaningful difference to people and the communities - being a catalyst for positive change"

Bina has over 28 years of professional career and experience with the only international Bank in Nepal,
Standard Chartered Bank Nepal Ltd. including as an Management Committee Member and Heading the
Human Resources and Corporate Affairs Functions for over 15 years. Other than the extensive
knowledge and experience gathered in overall Management, she has experience in the Retail Banking
Business of the Bank

After retirement from the Bank in November 2017, she established Humsikha Consultancy P Ltd, a
consulting firm with the purpose of helping organizations and people to become professionally aligned by
adopting best HR and Management practices.

Coach - Using Results Coaching System methodology of facilitating positive change by improving
thinking. Brain Based Coaching certification from NeuroLeadership Institute (NLI).
Advisory Board of Human Resources Society of Nepal.

Member – Zonta Club of Kathmandu chartered under Zonta lnternational a leading global organization of
professionals, empowering women worldwide through service and advocacy.